Natural trench heating
Trench Heating operates on the principle of natural convection, without a fan
Request for quotation and price list
NXX Natural Trench Heating
Cold air is drawn from the window side of the unit, passes through a heat exchanger and rises naturally up into the room. As the air rises, it is replaced by more cool air and this cycle continues as long as hot water is circulating through the heat exchanger.
The Natural Trench Heating Range has two types:
NXX model for standard dry environments such as offices, shops, houses etc.
NWX for wet/humid environments such as bathrooms, swimming pools or saunas.
Height: 65 mm, 80 mm, 105 mm, 125 mm, 165 mm.
Width: 175 mm, 205 mm, 245 mm, 305 mm, 355 mm, 410 mm.
Choice of trough material – stainless steel or black powder coated FeZn steel;
Choice of natural, light bronze or dark bronze painted aluminium perimeter trough edging;
CuAl heat exchanger with air valve and ½" brass ends
A tangential DC 24V fan with protective metal cover
Spacers to protect trench geometry during installation and concrete pouring.
Cover plates to protect water and electrical connections;
Drainage connectors for wet/humid environment trench units and combined heating and cooling trench units
A set of fixing legs and level adjusting screws
18 mm MDF cover to protect against damage and falling debris during installation
Bespoke trenching heating systems can be designed and manufactured to meet the most challenging project specifications.
Request a live presentation of the convector or get a demo sample of the convector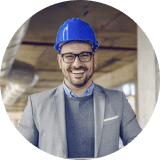 Andrii Stetsovskyi
Commercial Director - Hitte S.R.O.
personal offer
help and advice
free estimation