Request for quotation and price list
Unlike the water convector where the heating medium is water, the electrical convector doesn't require any water connection. It is powered only by electricity and could be easily and quickly installed in any place. However, if there is no possibility to implement water tubes in the room the ideal solution is an electric convector.
For electrical floor convectors, we only use decorative aluminum or stainless steel grilles for safety reasons and compliance with all standards and norms.
The electric convector consists of a heater spiral and a fan. The heating element is reliably protected from people and absolutely safe to use.
heating is regulated by a thermostat, the heating spiral has overheating protection.
one fan rotation speed. In the next operation, the consumption of el. energy is much higher than hot-water floor convectors. 
There are two types of convector available. With 750W fan modules and 400W fan modules. 
230 V/50 Hz connection

height is 305 (incl legs)mm, width 160 mm

length from 800mm up to 3000mm
power output from 400w to 3kW.
Request a live presentation of the convector or get a demo sample of the convector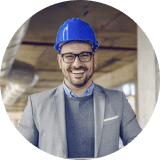 Andrii Stetsovskyi
Commercial Director - Hitte S.R.O.
personal offer
help and advice
free estimation